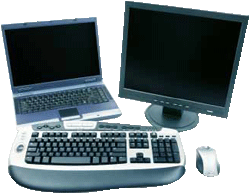 Classic Computers is one of the fastest growing company providing "Computer Solutions" with proven track record for five years with over 5000 personal computers sold Classic Computers was evolved by a Team of Professionals to provide the service for computer Hardware & Networking.
Classic Computers Offering desktop computers as well as laptop and maximizing client satisfaction is our business philosophy and we ensure that our customers receive prompt and cost effective services. Apart from various technology related services, we also provide all kind of computer hardware like: PC's, Laptops, UPS, Printers, Scanners, Blank CD and other...
Services : Classic Computers offers Networking Solutions & AMC Services for all branded & unbranded products. Our capabilities are suitable reflected in our client list, which includes Govt. / Semi Govt. Organization & Limited Companies.
AMC : We undertake all type of comprehensive and Non-comprehensive annual maintenance Contract.